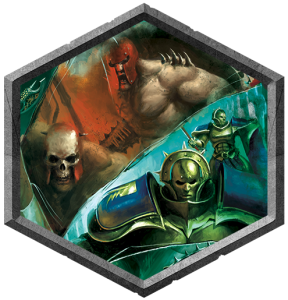 Are you ready to step into the gloom created by Nagash? Then join in our Warhammer Underworlds Shadespire League 2018. For convenience the rules of the league below will continue in Dutch!
De Shadespire league is een reeks Shadespire games, verdeeld over 4 mogelijke clubavonden. De 2 beste warbands nemen het tegen elkaar op in de finale en maken daarmee kans op een speciale button en een leuke prijs!
De regels
Je speelt al je league-games met dezelfde warband. (Steelheart's champions, Garrek's reavers, Ironskulls boyz, Sepulchral guard, The chosen axes, Spiteclaw's swarm, Magore's fiends of Farstriders)
Speel minimum 3 games tegen minimum 3 verschillende tegenstanders.
Games kunnen gespeeld worden op 6, 13, 20 en 27 september 2018.
Je objective- en power deck mogen ieder max. 50% universal cards bevatten. (Je tegenstander mag voor jullie game je deck inkijken/controleren.)
Enkel de boards uit de basisdoos zijn toegestaan.
Iedere deelnemer voorziet zelf zijn warband, een speelbord en tokens. Dit wil niet zeggen dat je zelf de basisdoos moet hebben, jijzelf of je tegenstander is voldoende, of eentje lenen kan
natuurlijk ook.
Als je volledige warband geschilderd is (incl. bases!) krijg je bij aanvang van iedere game 1 glory point.
Probeer een leuke alternatieve naam voor je warband te bedenken. Zo voorkomen we dat de
finale gespeeld wordt tussen bv. 2x Steelheart's champions.
Wees fair. Games weigeren om tactische overwegingen kan bestraft worden met een "Loss". Valsspelen zal bestraft worden met uitsluiting uit de league.
De 2 beste warbands worden bepaald op basis van win-loss ratio. Glory points won/conceded, aantal
casualties en leader live/die zullen gebruikt worden als tie-breakers.
Inschrijving 3€ (Gaat integraal naar Price-support.)
Met vragen kan je terecht bij Kurt & Jan.