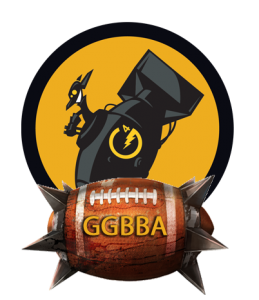 Hi Bob, are you as excited as I am for this?
Good evening Jim, yes I am! The Goblins Finest Gold Blood Bowl League is one of the best leagues in the small county of Limburg! May Nuffle bless the pitches!
Well Jim, let's talk about the rules. We will do this in Dutch!
Basis regels
We maken gebruik van de Games Workshop Death Zone Season 2 rules
Inschrijven kan bij Ben aan de Hopper toog of via mail naar ben@goldengoblin.be.
Je geeft je team een naam en zorgt voor een logo!
Enig dispuut wordt door Jon & Ben beslecht of door een derde waar nodig!
Na elke wedstrijd moet er een uistlagen blad ingevuld worden en aan de organisatie bezorgd worden. Het blad wordt vanaf 12/10/2017 beschikbaar gemaakt via download en print op de club.
Je probeert elke coach in de league minstens 1 keer uit te dagen.
Je speelt maximaal 2 officiële wedstrijden tegen dezelfde tegenstander!
Er zijn een aantal uitzonderingen op de Death Zone regels en wat huisregels, deze vind je hier onder.
Uitzonderingen & huisregels
Starplayers kunnen voor een seizoen gehuurd worden door 1 team. Zolang de upkeep betaald wordt is deze eigendom van het team. Het aankopen van een starplayer kan vanaf 12/10 20:00h! Je kan iemand anders opdracht geven om voor jou een starplayer te huren!
De nog vrije starplayers kunnen per wedstrijd worden gehuurd! Je kan deze huren door de Starplayer sheet in te vullen op club avond! Elke Starplayer is slechts 1 keer per avond beschikbaar.
Als je een league match op locatie speelt, dien je de beschikbaarheid van je Starplayer online te checken en deze te "boeken"
Je gebruikt deze aangepaste weather table tijdens de aangegeven maanden!

Oktober 2017 – November 2017 & Februari 2018 – Maart 2018
2: Very Sunny
3-8: Nice!
9-10: Pouring rain
11: Heavy Snow (zie Winter Table hier onder)
12: Blizzard
December 2017 – Januari 2018
Gebruik de officiele GW Winter Weather Table! Je vindt deze hier of een geprinte versie op de club!
De regels kunnen gewijzigd en/of uitgebreid worden zonder voorafgaande verwittiging! Bij vragen, contacteer ons via de wel gekende kanalen. Hail Nuffle!