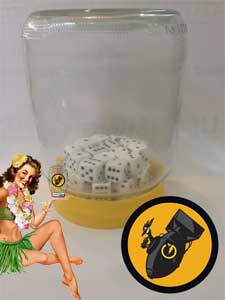 The Jar-neymen
#jarmy!
Perro Rastreador
As a recent addition to the crew, sent by Captain Leon to reinforce the Armada's search for Captain Rackhams treasure, Perro proved to be vital to the quest!
While in the Cave of lost hopes Perro dodged an attack by sliding along the cliffs towards a small boat, jumping in and rowing away. Leaving his Pirate assailers behind he didn't notice the rocky waters and sunk his landing craft forcing him to swim to shallow waters. Running the shore wet and exhausted he stumbled upon a great chest… the treasure of Captain Rackham …
If captain Leon finds out there was no gold in our treasure he's going to be pissed, but at least I'll be drunk … Damn that's a fine rum
Perro is part of Peter's Freebooter's Fate Armada and is a standard Freebooter's Fate model. While hesitant to get his model in the Jar, Peter was granted the honour 'cause his mate completed the Freebooter's Campaign.
I just got the model glued and base coated today, I've fixed a few colours on him, but he is far from finished. I didn't expect him to be of any importance today but here we stand with some rum in our hand!
He's got 3 colours hasn't he.. Right; now on to the Sisters'